EQUIPMENT QUESTIONS?
Contact us by email or phone and we'll get in touch shortly.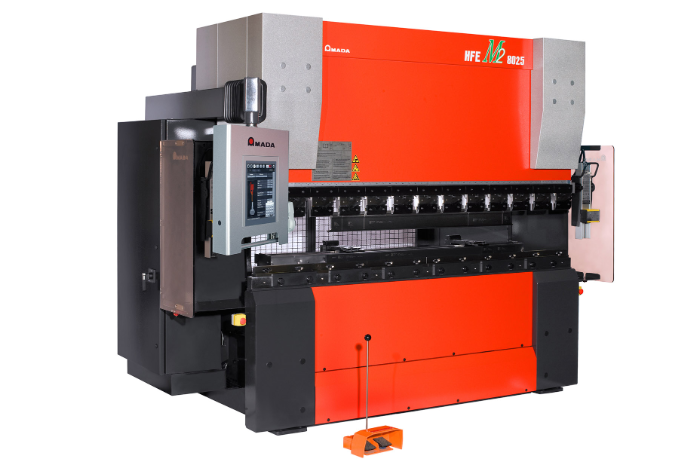 Built on the solid foundation of the HFE M2 Series, Amada's HS press brake series includes additional production-enhancing features and an innovative touchscreen NC Control. Overall design improvements result in an eco-friendly series that provide maximum performance and ease of use. Equipped with an energy saving drive — the inverter on the HS series reflects Amada's ongoing commitment to environmental protection. The new drive system uses a frequency inverter that controls the motor pump and ensures efficiency by operating only when necessary. The system continually monitors and self-regulates bending requirements — this translates to using 20% less energy, a significant reduction in maintenance requirements, less oil consumption, lower noise levels and an increase in reliability.
Features of the HS 2204 include:
Numeric Control (NC) – The AB PAD is equipped with an intuitive touchscreen interface. Users can also remotely monitor the operation of the machine, transfer programs and perform diagnostics.
Multiple Axis Backgauge – The light weight but rigid design allows for high speed and precise positioning. With the gauging capacity of up to 40″, large components can be easily processed. In the 6-axis version, the modules L1 L2 and Y1 Y2 are programmable independently, offering greater backgauge flexibility.
S-GRIP Punch Holders – Allows the brake operator to change punches on the press brake quickly and safely without requiring a wrench. The patented SGRIP design dramatically decreases tool changeover time, thereby increasing bending productivity.